Get BornHack news as a RSS feed
---
We have switched bank from Arbejdernes Landsbank to Folke Sparekassen which is a non-profit bank and better aligned with our values.
This means that we have a new bank account for bank orders. The next time you place a bank order please do not use the old account number, or we wont get the money.
The new bank account details are:
Bank Name: Folke Sparekassen
DK Reg No: 9860
DK Account No: 747866
IBAN: DK0398600000747866
BIC: FOSPDK21

---
We are very happy to finally announce the 2019 tagline and logo.
If you went to our 2019 kickoff at the new venue Hylkedam then you've already heard the tagline. You might even have seen the logo if you follow @BornHackBadge on Twitter.
The tagline for 2019 will be:
A new /home
since we are moving to a new venue this year.
We are very happy with how this years logo turned out. It was designed by Martin Nagel Larsen. Remember to let him know if you like the logo, you might be able to find him on this years camp,
Without further ado, here is this years logo:


And in this years colour #FFED00 and with a nice star background it makes for a great desktop wallpaper (4K resolution):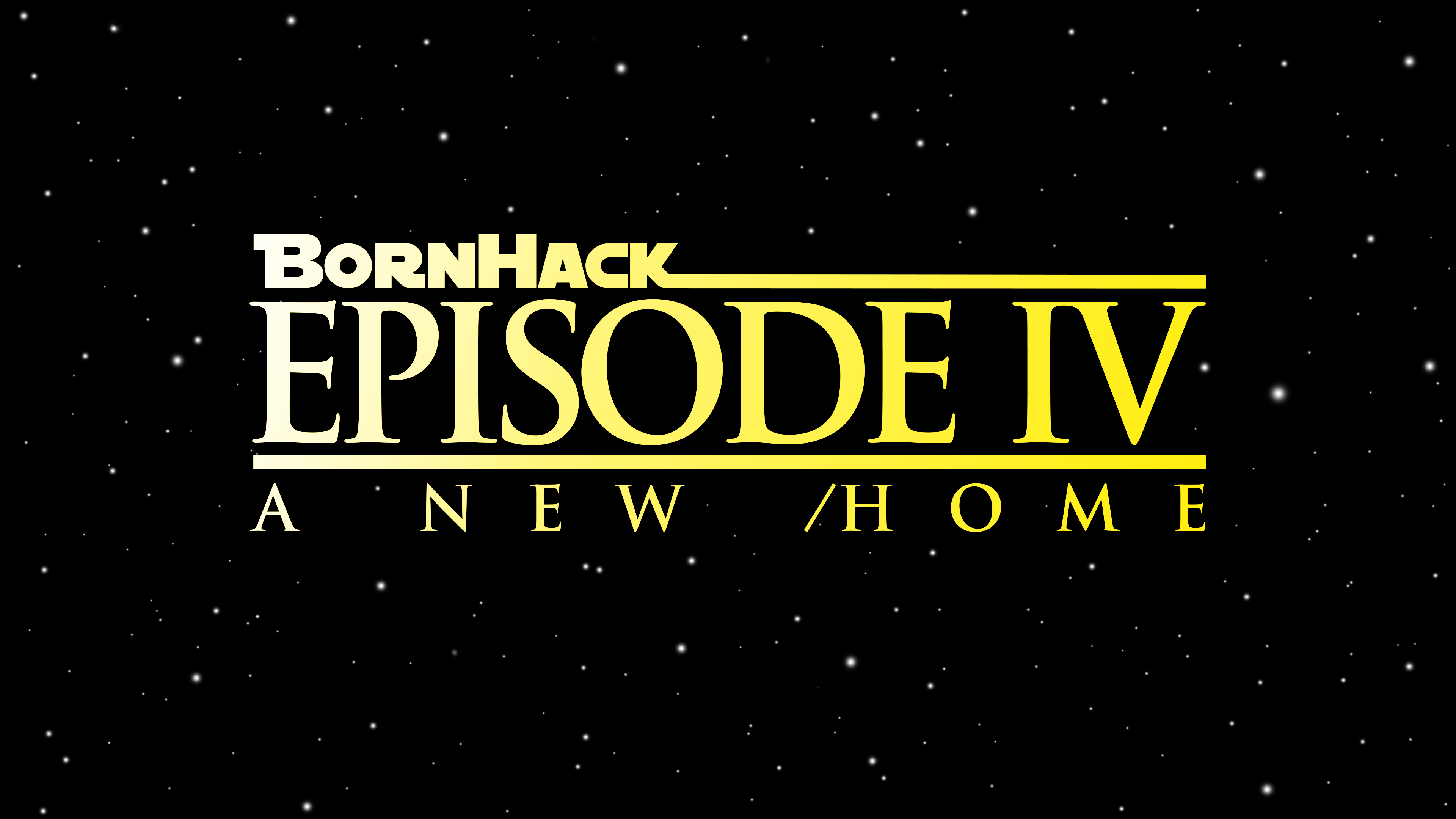 ---
We are looking for a 20 foot standard shipping container to store BornHacks things in. If you know of one we can have cheap (or free!) then please get in touch ASAP. We can take care of transportation to Funen.
The container needs to be in decent shape, completely waterproof and not about to rust away.
Please help spread the word!
---
The 2019 Kickoff is very soon now. We've gathered some information you might need:
Where
Hylkedamvej 54
5591 Gelsted
When
Saturday, March 9th, 2019. We've included an approximate timetable below, but expect unexpected delays and plan accordingly :)
14:00 Arrival. Say hello, get assigned a room if you need it.
14:30 We begin with a grand tour of the venue.
15:30 We sit down and talk about the teams for 2019, and the plans for 2019.
16:30 We split up in teams and work on 2019 tasks.
19:00 the formal part of the program is over, but you are welcome to stay longer.
20:00 Treat yourself to a lovely dinner prepared by the organisers.
What To Bring
If you have a nice camera please bring it - we want to document the new venue with plenty of nice pictures.
If you are spending the night you at least need to bring a sheet and sleeping bag, along with any other overnight neccesities you might have, like:

Toothbrush and other toiletries
Any medication
Clean clothes

Good ideas for BornHack 2019
Food
Saturday evening at 20:00 we will eat a well-deserved dinner and celebrate a successful kickoff. The organisers will prepare pita breads with various stuffing, suitable for both omnivores, vegans and vegetarians.
Sunday morning from 10:00 we will have a lovely breakfeast and get ready to leave. The menu is freshbaked buns with bacon and eggs as well as various cereals with milk.
Accomodation
The venue has 50+ bunk beds as well as extra loose mattresses. We expect it to be more than enough for everyone. The beds are distributed in 5-6 rooms so expect to share a room with some fellow hackers. Remember to bring a sheet and sleeping bag!
Payment
Participation in the kickoff is free, including food and accomodation. We appreciate a small donation for the food if you can afford it, but mostly we are just thrilled that you are willing to spend your weekend planning BornHack.
Bar Leftovers
We are bringing some leftover stuff from the bar, some which expires before BornHack 2019, so we need to get rid of it. Mostly mate, cocio, vodka, akvavit, sevablødda, and other liquid goodies. Card payment or bank transfer is possible. The vodka and akvavit are with the BornHack custom labels from 2018. Prices will be low!
Final Words
We are very excited about the kickoff and we hope to see many people there. If you have any questions please don't hesitate to ask us through the usual methods :)
See you!
---
We are happy to announce that it is now possible to buy your ticket for BornHack 2019 in the shop! This will be the fourth BornHack, for the first time at our new venue Hylkedam on Funen.
We have kept the prices at the same level as the previous years. A regular full week Adult Ticket is 1200,- DKK. Child Tickets are available for 450,- DKK. Student Tickets are 900,- DKK and we have the Budget Ticket for 600,- DKK for hackers with tight budgets.
We also have more expensive tickets available (and remember Bitcoin payment is possible! :)) for hackers who are able to pay a bit more. The Hacker Ticket is 1337,- DKK and the Supporter Ticket is 1800,- DKK.
Finally we have Corporate Tickets available for 2500,- or 5000,- DKK if you have an employer paying the ticket.
We have the usual payment options available. We prefer Bank Transfer (but please remember to pay the fees in your end!) or Blockchain payments. You can even pay cash if you happen to find yourself near an organiser. Finally we do accept Credit Cards, but we ask that you consider using the other options first.
Go get your tickets in the webshop now!
---
The BornHack 2019 Call for Participation is open now!
We are looking for talented, humorous, inspiring, and/or provocative speakers to host talks, lightning talks, and workshops at BornHack. We welcome first time speakers!
We are very open to different topics. We expect that the majority of the presentations at BornHack will be on security, networking, programming, distributed systems, privacy, community, and how technologies relate to society.
Read the BornHack 2019 CfP and submit a proposal! The deadline for submission is the 1st of June, 2019.
Please note that BornHack 2019 is taking place on the island of Funen instead of Bornholm.
---
The BornHack organisers would like to invite all volunteers to join us at the BornHack 2019 kickoff Saturday, March 9th, at the new venue Hylkedam.
The address is Hylkedamvej 54, 5591 Gelsted. Let us know if you need a pickup at Gelsted train station.
At 14:00 we begin with a grand tour of the venue, followed by a few hours of talking about the teams and plans for 2019.
At 18:00 the formal part of the program is over, but you are welcome to stay longer.
At 19:00 you can treat yourself to a dinner (prepared by the organisers!).
The rest of the evening can be spent talking more about BornHack while enjoying a popup instance of #wip_bar. If you wish to spend the night you just need to bring a sleeping bag. The place has plenty of beds to choose from. After breakfeast sunday we pack up and leave the venue.
We hope that many of our great volunteers want to join us to make 2019 the greatest BornHack yet!
---
BornHack is moving to a new venue!
We are moving BornHack to a more central location in Denmark, on the west side of Funen. The new venue is called Hylkedam. The address is Hylkedamvej 54, 5591 Gelsted – which is on Funen.
Why Move
We love Bornholm, but transporting people and stuff to and from the island is expensive. Ferry tickets can be hard to get, especially with trailers or large vehicles. These concerns obviously apply to participants too – availability and convenience means a lot when people are planning participation in events.
The secluded location also means that some things are much more expensive than in the rest of the country – such as tent rental. We had to rent tents elsewhere and transport them to Bornholm, because it was cheaper, even with the transport.
Jarlsgård is not ideally suited for camping – the open areas are not very flat, and the flat areas are covered by forest. This makes it difficult to find a suitable site for a large village.
Neighbours are very close to Jarlsgård on both sides. Noise complaints are hard to avoid. The Jarlsgård venue is small enough that we found it difficult to place the Bar and Noisy Areas far enough from the Quiet Area to avoid conflicts.
The New Venue
Hylkedam is similar to Jarlsgård (the previous venue) in a number of ways. Hylkedam is owned by The Danish Scouts and is primarily used by scouts – just like Jarlsgård.
Hylkedam has a bunch of other advantages over Jarlsgård though, apart from just the location on the map.
Hylkedam is almost four times larger than Jarlsgård – 189.000m² vs 50.000m². Part of the venue is forest and all of it is lovely and protected nature – just like on Jarlsgård.
Hylkedam is more suitable for camping: It is made up of large, flat grass areas naturally separated by bits of forest. This layout is ideal for separating the various areas of BornHack, such as the Family Area, Caravan Area, Quiet Area, Noisy Area and so on. The venue is mostly surrounded by forest – the neighbours are far away (except for one area). The ground is sandy like on Bornholm, thus water will sink fast in case of heavy rain.
Hylkedam is much more conveniently situated in relation to public transportation. Only 3.5km to walk from the train station in Gelsted means our Shuttle Bus Team will have much shorter trips to make. Grocery shopping is available in the same town, and it has a hardware store and other neccesities as well.
Ticks on Funen have a significantly lower chance of carrying Lyme disease. The first three years of BornHack at Bornholm all had cases of Lyme disease – some more serious than others.
Hylkedam is further from the ocean than Jarlsgård was – but the nearest water is still pretty close.
What About the Name?
BornHack will keep the name. Bornholm will always be part of our history. The friendships and relationships we've built with people, suppliers, and sponsors there will last forever. But realistically many of the local suppliers of food, drinks and services we've been using will have to be replaced with new suppliers, which are local to the new venue.
---
A bunch of BornHack organisers are present at 35c3.
We don't have a BornHack assembly, but we are organising a meetup on Friday the 28th at 22:00 CET. The location is the Discodrama near the rocket.
We know that many BornHack participants are present at Congress, and we look forward to seeing everyone again :)
If you've never been to BornHack the meetup is an excellent opportunity to ask questions and have a drink with us.
We have a free BornHack 2018 Badge for the first 20 people who shows up. We might also have some Gammel Dansk and Snaps.
See you there! :)
---
As promised we are selling a second batch of the BornHack 2018 merchandise. This is the same gear we sold during BornHack 2018. We have tshirts (slim and regular) as well as hoodies and hooded cardigans. The merchandise is available in the shop until January 13th 2019 and will be shipped in February. Note that shipping is not included in the prices. Please remember to add shipping to your order – alternatively you can arrange pickup in person with one of our organisers.
---
Show archived news items